September 8, 2023 5:21 pm
Leave your thoughts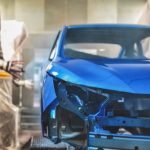 Maintaining the appearance of your car is essential for its overall aesthetic appeal and resale value. One of the most common ways to make your car look brand new and fresh is by applying a fresh coat of paint. However, with so many options available in the market, it can be overwhelming to choose the best paint products for your car. In this blog post, we will discuss some of the top paint products that are highly recommended for enhancing and protecting your car's paint.
1. Automotive Spray Paint
When it comes to convenience and ease of use, automotive spray paint is a popular choice. It comes in a wide range of colors and finishes, allowing you to match your car's existing paint or apply a completely new color. Automotive spray paint provides a smooth and even finish, giving your car a professional look. It is important to choose a high-quality brand that offers durable and long-lasting results.
2. Automotive Paint Pens
For small touch-ups and minor scratches, automotive paint pens are an excellent choice. These pens are filled with paint that matches your car's color and can be easily applied to the affected area. Paint pens are precise and offer more control compared to spray paint. They are ideal for fixing small blemishes and avoiding the hassle of repainting the entire panel.
3. Automotive Touch-Up Paint Kits
If your car has numerous chips, scratches, or areas in need of touch-up, consider using an automotive touch-up paint kit. These kits typically come with everything you need to repair and repaint the damaged areas, including paint, primer, clear coat, and applicators. Touch-up paint kits are designed to match your car's original color and provide a seamless finish.
4. Ceramic Coatings
Ceramic coatings have gained immense popularity in recent years due to their durability and protection properties. They provide a long-lasting shield against UV rays, chemicals, dirt, and other environmental factors, ensuring that your car's paint remains in pristine condition for an extended period. Ceramic coatings are typically applied by professional detailers, and they offer a high gloss finish that enhances the depth and clarity of your car's paint.
5. Paint Sealants
Paint sealants offer a protective layer on top of your car's paint, providing long-lasting protection against UV rays, oxidation, and fading. They are easy to apply and provide a glossy finish that enhances your car's appearance. Paint sealants also offer hydrophobic properties, making it easier to clean your car and repel water and dirt.
6. Car Wax
Car wax is a classic and widely used paint product that provides a protective layer and enhances the shine of your car's paint. It helps to fill in small scratches and swirl marks, creating a smooth and glossy finish. Car waxes come in various forms, including paste, liquid, and spray, catering to different preferences. It is recommended to choose high-quality car wax that offers long-lasting protection and easy application.
Conclusion
Choosing the best paint products for your car is crucial for maintaining its appearance and protecting the paintwork. Whether you opt for automotive spray paint, touch-up paint kits, ceramic coatings, paint sealants, or car wax, it is important to select high-quality products that offer durability and provide a professional finish. Regular maintenance and proper application of these paint products will ensure that your car always looks its best and retains its value in the long run.
Got Questions? Let Us Help!
Family owned and established in 1953, Lentz Auto Body has been serving Belford and Middletown for over 60 years. Here at Lentz Auto Body, we provide superior, experienced service for your vehicle. Now with all new ownership and management, Lentz Auto Body is your one-stop shop for all things collision repair and body work. Some of our major services include collision and auto body repair, dent repair, auto restoration, auto painting, custom auto painting, car detailing, and more! If you need collision repair or auto body services in Middletown, give us a call or stop in today for an estimate. Our friendly staff and professional mechanics are here, waiting to assist you!
Categorised in: Auto Body Painting, Auto Painting
This post was written by admin