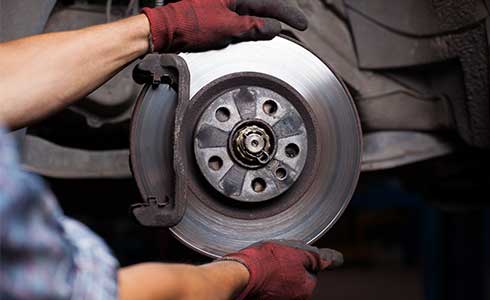 With more than 60 years of experience, Lentz Auto Body knows what to look for beyond cosmetic damages. As a qualified mechanic in Middletown, NJ, we're able to provide a broad range of auto repair services that get your vehicle back up and running. From the front end, to the undercarriage, to the tires and beyond—if it's damaged or in need of service, we'll fix it!
Front-end repairs: If there's a problem under the hood, we've got the answer. We focus on front-end auto repair in Middletown, NJ, fixing most general engine issues. From new belts and hoses, to plugs and fluids, to other basic tweaks and tune-ups, we aim to keep your engine and everything else under your hood working smoothly.
Wheel alignment: Misaligned wheels cause excessive tread wear on your tires and can put strain on components like wheel bearings and struts. We have the equipment to realign wheels, so your car drives straight, without affecting your wheels or suspension.
Shocks, struts and suspension: Do bumps feel rockier than they used to? Is your head bobbing up and down even when you're driving on flat ground? These are signs of a suspension issue. We install new shocks and struts to smooth out your ride, and can deliver suspension repairs if there are major misalignments or damages causing instability.
Brakes: Brakes are your car's most important safety feature. If your brakes have lost their stopping power, squeal when you engage them or have a mushy feeling in the pedal, it's time to have them serviced. We install new brake pads and shoes, and can repair calipers and rotors if damaged. When we're done, your vehicle will stop on a dime, giving you peace of mind.
Tires: Hydroplaning is no joke. If your treads are giving you the slip, it's time to restore traction and handling with a new set of tires. We'll help you choose the right treads and get them installed and aligned, so you can hit the road with confidence. We offer both all-weather and sport tires. Don't need new treads yet? Talk to our staff about rotations and alignments. We'll help you get the most out of the tires you have.
Radiators: No one wants to pull over on the side of the road with a steaming hood and a radiator that's overheating. If you're constantly running low on coolant and have an engine that's dangerously close to overheating, schedule a service appointment. We can repair and re-core radiators. We'll help you keep your engine cool and functional.
Exhaust Repair/Replacement: A vehicle with an exhaust system that doesn't work properly can be dangerous. Noxious fumes can enter the passenger compartment and cause harm to passengers. Exhaust systems are also responsible for allowing your car to run efficiently, quieting engine noise and protecting the environment. Whether you have increased noise when the engine is running or you have a warning light, give us a call and we'll get you squared away.
Auto HVAC: Problems defrosting your windshield in the winter? No AC in the summer? Keeping your cabin at the right temperature is important for safe driving. Talk to us about auto HVAC services. We can fix everything from your heating core and blower to recharging your refrigerant, so you're comfortable all year round.
Contact Lentz Auto Body today at 732-787-0800 for more information about our auto repair services. Whether you're coming off an accident or due for service, our mission is to get you back behind the wheel of a vehicle that's safe and ready to drive smoothly.