September 22, 2023 5:21 pm
Leave your thoughts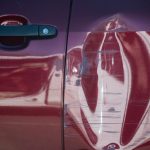 Finding the right auto dent repair service can be a daunting task. With numerous options available, it's important to choose a reputable and reliable provider to ensure high-quality results. In this blog post, we will discuss some key factors to consider when selecting an auto dent repair service.
Research and Reviews
1. Conduct thorough research: Start by researching different auto dent repair services in your area. Look for companies with a solid reputation and years of experience in the industry. This will help you narrow down your options and focus on those that have a proven track record.
2. Read customer reviews: Check online platforms such as Google, Yelp, or the service provider's website for customer reviews and testimonials. Pay attention to both positive and negative feedback, as it can give you insights into the service quality, professionalism, and customer satisfaction levels.
Certifications and Expertise
3. Look for certifications: Choose an auto dent repair service that has certified technicians. Certifications such as I-CAR (Inter-Industry Conference on Auto Collision Repair) or ASE (Automotive Service Excellence) indicate that the technicians have received proper training and have the necessary expertise to perform high-quality repairs.
4. Evaluate expertise in dent repair: Auto dent repairs can vary in complexity, depending on factors such as the size and location of the dent. Look for a service provider that specializes in the type of dent repair your vehicle needs. They will have the specific tools, techniques, and experience required for a successful repair.
Quality of Work
5. Inquire about repair techniques: Ask the service provider about their repair techniques. Ideally, they should prioritize non-invasive methods such as paintless dent repair (PDR) whenever possible. PDR is a technique that removes dents without the need for painting or fillers, preserving your vehicle's original factory finish.
6. Request examples of previous work: Ask the auto dent repair service for before-and-after photos or portfolios showcasing their previous work. This will give you a better idea of the quality of their repairs and their ability to restore your vehicle to its pre-damaged condition.
Estimates and Pricing
7. Get multiple estimates: Contact several auto dent repair services and request written estimates. Compare the prices, ensuring that they include all the necessary repairs and labor costs. Keep in mind that the lowest price doesn't always guarantee the best service, so prioritize the overall value for money.
8. Understand warranty policies: Inquire about the service provider's warranty policy. A reputable auto dent repair service should offer a warranty for their work, giving you the confidence that they stand behind their repairs.
Convenience and Customer Service
9. Consider location and accessibility: Choose an auto dent repair service that is conveniently located and easily accessible. This will save you time and travel expenses, especially if you need to visit them multiple times for repairs or consultations.
10. Assess customer service: Pay attention to the customer service experience during your initial interactions. Evaluate factors such as response time, professionalism, and willingness to address your concerns. Good communication and a friendly, helpful attitude are important indicators of a reliable service provider.
Insurance and Claims Assistance
11. Check insurance affiliations: If your vehicle is covered by insurance, inquire about the auto dent repair service's affiliations with insurance companies. A reputable service provider will have established relationships with insurers, making the claims process smoother and more efficient.
12. Verify claims assistance: Ask the service provider about their experience in handling insurance claims. They should be knowledgeable about the claims process and be able to guide you through it, ensuring that you receive the necessary documentation and assistance to complete your claim.
Conclusion
Choosing the right auto dent repair service requires careful consideration of factors such as reputation, certifications, expertise, quality of work, estimates and pricing, convenience, customer service, and insurance affiliations. By taking the time to research and evaluate different service providers, you can ensure that your vehicle receives the best possible care and restoration after sustaining dents or damages.
Got Questions? Let Us Help!
Family owned and established in 1953, Lentz Auto Body has been serving Belford and Middletown for over 60 years. Here at Lentz Auto Body, we provide superior, experienced service for your vehicle. Now with all new ownership and management, Lentz Auto Body is your one-stop shop for all things collision repair and body work. Some of our major services include collision and auto body repair, dent repair, auto restoration, auto painting, custom auto painting, car detailing, and more! If you need collision repair or auto body services in Middletown, give us a call or stop in today for an estimate. Our friendly staff and professional mechanics are here, waiting to assist you!
Categorised in: Auto Restoration, Dent Repair
This post was written by admin